Multi-Loop program controller EC1200A - Multi-Loop EC1200A
Mô tả:
Đại lý Ohkura Vietnam - TMP Vietnam
MULTI-LOOP PROGRAM CONTROLLER/
EC1200A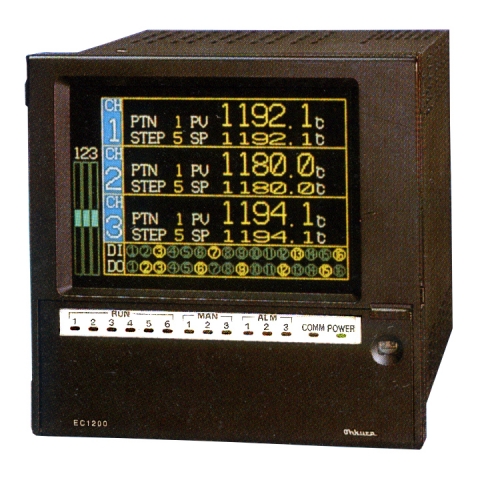 ◆Download Specs
Specification Sheet
The EC1200 can, totally and with high precision, control and monitor such factors as temperature, temperature balance (∆T), ambient gas, soaking time and processing time essential in seeking stability and enhanced productivity in work quality. The EC1200 employs a large TFT color liquid crystal display as a human interface (HMl) for enabling graphical touch operation, providing far better operating environment compared with conventional models. The EC1200 is an advanced programmable controller with high precision control and excellent operating environment realized by multiple functions intended for high performance heat treatment.
Features
■Total control of high performance heat treatment system
Temperature:
Work temperature balance (∆T) control and profiling control enabling substantial work temperature control.
Ambient gas:
Program analog retransmission output in parallel with temperature control enabling detection of ambient gas and control of density by mass flow controller etc.
Reliable uniform heating:
Continuously monitors electric furnace heater resistance by the Heater Monitoring Unit; model ZE7201, and its expedient alarm function works for preventive detection of electric heater wear-out then uniform heating for the work is guaranteed.
Keep Time:
Keep time triggered and initiated by temperature balance for surface and core of the work for ensuring even sintering treatment.
■"Variety of input/output functions
Input:
control input (1 ~ 3ch), precise analog input (for profiling, ∆T control: 3 inputs max.)
Output:
control output (1 ~ 3ch), analog retransmission (output for configuring mass flow controller, etc: 3 outputs max.)
DI/DO:
16 points max.
each Communication interface:
RS-232C, RS-422A, GP-IB
Extended function:
ARCNET®
"
■Multiple control of up to 3 channels per single unit
Control channel:
Programmable control of up to 3 zones per single unit.
Up to 18 channels controllable by ARCNET® (Control by 6 units max.)
■"Variety of program loop
4 program linked control
(Ex.: Temperature, gas and pressure)
Program biased control
(Ex.: 3 zones temperature control)
3 program independent control
(Ex.: Independent furnace control)
■"High performance
High accuracy: ± 0.05%+ 1 digit
High resolution: 0.01°C (Pt 100, JPt 100)
■"TFT large full-color liquid crystal display (103 × 75mm)
Enable operators to see quickly control results on real-time trend screen.
Easy programming of data input with graphic pattern on the same display.
■"IC Memory Card
Program pattern, PID constants, Parameters, SET UP data can be stored.
■"Safety standards UL, CSA
Multi-Loop program controller EC1200A - Multi-Loop EC1200A

Danh mục hãng
Trực tuyến:

4

Hôm nay:

350

Tuần này:

350

Tháng trước:

5505

Tất cả:

841009