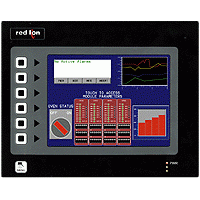 Specifications:
3rd Generation HMI from Red Lion
Powerful 32-bit ColdFire Processor
Integrated Protocol Converter
2 RS-232 Serial Ports
1 RS-422/485 Serial Port
10/100-Base-TX Ethernet Port
Remote Web Access and Control Facility
USB Port for Configuration Download
Compact Flash Socket for Data Logging
NEMA 4X / IP66 Front Panel
UL Listed for use in Hazardous Locations. (See literature for class
and division details.)
24V DC Operation
Configured using Crimson® 2.0 or 3.0 Software Configuration and Firmware are Stored in 32MB of Non-volatile FLASH Memory 7.7" TFT 32K VGA 640x480 Pixel LCD Dedicated MENU Key and 6 Soft-Keys Three front panel LED indicators Resistive Analog Touchscreen
Accessories
Click on the accessory types below to view accessories related to this product.
Adapter Panels
G3AD0607 - G3AD- Graphite® Adapter Panel, G306 TO G07
G3AD0807 - G3AD- Graphite® Adapter Panel, G308 TO G07
G3AD1009 - G3AD- Graphite® Adapter Panel, G310 TO G09
G3AD1010 - G3AD- Graphite® Adapter Panel, G310 TO G10
G3AD1012 - G3AD- Graphite® Adapter Panel, G310 TO G12
G3AD1515 - G3AD- Graphite® Adapter Panel, G315 TO G15
Batteries
BNL20000 - BNL2- 3 Volt Lithium Battery - G3 & Paradigm
Option Cards
G3CN0000 - G3CN- CANopen Option Card, G3 Operator Interfaces
G3DN0000 - GDN- DeviceNet Option Card, G3 Operator Interfaces
G3ENET00 - G3NET- Ethernet Option Card, G3 Operator Interfaces
G3HSPA00 - G3HSPA- Cellular Modem Option Card, G3 Operator Interfaces
G3MPI000 - Multi Point Interface Option Card, G3 Operator Interfaces
G3PBDP00 - G3PBDP- Profibus Option Card, G3 Operator Interfaces
G3RS0000 - RS-232/485 Option Card, G3 HMIs with Isolated Comms Ports
G3USBHC0 - G3USBHC- USB Host Option Card for G306A Operator Interface
Protective Film
G3FILM08 - G3FILM- Pack of ten protecitve films for G308 or G308A